Monitoring Pretrial Reform in Harris County, Texas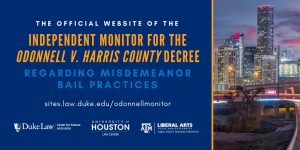 Duke Law professor and Center faculty Director Brandon Garrett has been appointed independent monitor for a landmark bail reform settlement in Texas that could become a national model for cash bail reform. Researchers at Duke, including Garrett and Center Executive Director Thomas Maher, will monitor implementation of the ODonnell Consent Decree in Harris County, Texas, which encompasses Houston and, with nearly 5 million people, is the nation's third most populous county. Working closely with deputy monitor Sandra Guerra Thompson, professor of law and director of the Criminal Justice Institute at the University of Houston Law Center, and with Dr. Dottie Carmichael of the Public Policy Research Institute at Texas A&M University, Garrett will direct a seven-year monitoring project that includes ongoing analysis of Harris County data and intensive engagement with stakeholders in Texas. The ODonnell Consent Decree settles three years of litigation in ODonnell v. Harris Cty., a class action lawsuit brought in federal court after the titular plaintiff was arrested for driving on a suspended license and jailed when she could not afford bail set at $2,500. In the complaint, the plaintiffs alleged that the county's bail practices contributed to an average of 500 people per night being detained in the Harris County Jail for misdemeanors. The Monitor Team website describes the team, their work, upcoming dates, and includes documents and reports.
Amicus Lab
A wide range of cases raise novel scientific issues, which judges can struggle to resolve. One way to provide courts with independent information and insight regarding complex scientific issues is through the filing of friend of the court documents, known as amicus curiae briefs. The purpose of the Amicus Lab is to teach students about the use of emerging science and technology in the courts through the drafting and submission of such amicus briefs. We will submit a number of amicus briefs to state and federal appellate courts and the U.S. Supreme Court, in cases where independent expert views could play a useful role. These briefs will be unaligned with any party and are intended to provide the court with unbiased, current, and coherent information about the scientific issue in the case. For example, this amicus brief, filed by the Amicus Lab team on behalf of researchers in the case of Joe Bryan, argued that the blood pattern evidence introduced in two Texas murder trials was unreliable, based on more recent scientific research.
Behavioral Health Core

The Behavioral Health Core carries out most of the Center's research activities concerning outcomes for people with mental health or substance use disorders who become involved with the criminal justice system. The population of interest to the Core investigators includes people with behavioral health needs at all stages of the criminal justice system, from arrest to sentencing to community reentry following incarceration. Our studies focus on affected individuals within their social environment over the life course, as well as on the public systems they encounter. Research projects take a public health perspective and are focused on evaluating programs, treatment services, policies, and legal tools to determine which are most effective for which individuals. Our goal is to work collaboratively across relevant disciplines, partner with system leaders, and engage with community stakeholders to build evidence for effective interventions at each stage of the Sequential Intercept Model. The Behavioral Health Core is staffed by an interdisciplinary team of distinguished researchers in behavioral health services, systems, and policy studies. Team members hold faculty appointments in the Department of Psychiatry and Behavioral Sciences in the Duke University School of Medicine and Sanford School of Public Policy and include: Michele Easter, PhD (sociologist); Allison Robertson, PhD, MPH (public health and policy scholar); Jeffrey Swanson, PhD (sociologist); and Marvin Swartz, MD (psychiatrist).
Bass Connections: Harnessing Data from North Carolina's Jails to Inform Effective Policies
Catherine Grodensky and Ruth Wygle, PhD students in the departments of public policy and sociology, respectively, and Center Director Brandon L. Garrett, are co-leading "Harnessing Data from North Carolina's Jails to Inform Effective Policies," which will explore the potential utility and need for routine collection of demographic, legal, and health information on North Carolina's local jail populations in a statewide database. The project team, which will also include eight graduate and undergraduate students, will examine existing jail databases in other states to understand demographic and health trends in their local jail populations and study their development and implementation. They will then engage stakeholders and experts to assess the need for a similar North Carolina database in a move towards more comprehensive data.
JustScience Lab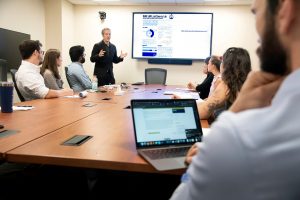 The JustScience Lab brings together undergraduate and graduate students from across Duke University, post-doctoral fellows, and faculty to address pressing criminal justice problems. We conduct impactful research and policy designed to improve criminal justice outcomes, with a special focus on Durham, the Triangle, and North Carolina projects. Our work is non-partisan and evidence based. We engage with state and local government and community stakeholders to translate research into effective and practical policy. Ongoing projects include studies of pre-trial conditions in Durham, collaboration with local District Attorneys' Offices, studies of fines, fees, and court appearances in North Carolina, and studies of North Carolina sentencing data.
For Duke students, including undergraduate and graduate students, interested in working with the lab during the school year or interning during the summer, please contact Research Director Dr. William Crozier at william.crozier@duke.edu.
Jail Equity Project
The Jail Equity Project, a collaboration between the Wilson Center for Science and Justice and the Samuel DuBois Cook Center on Social Equity at Duke, aims to study the prevalence, causes, and consequences of inequities in jail incarceration rates and in conditions of confinement in local jails. Relatively research on local jails exists despite the fact that far more individuals experience local jail incarceration than prison incarceration at any given time, there are vast racial/ethnic and class disparities in both the rates of local jail incarceration and conditions of confinement in local jails, and even short stints in a local jail can have serious implications for the life-course. The Jail Equity Project seeks to address these limitations in research by using a wide variety of datasets and research approaches. Initial work has examined the limitations of data from the Bureau of Justice Statistics, particularly those stemming from racial classification practices.