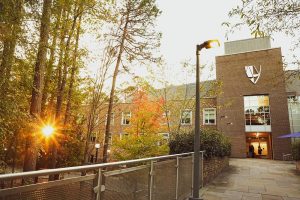 The Wilson Center for Science and Justice brings together faculty and students at Duke University in law, medicine, public policy, and arts and sciences to pursue research, policy and law reform, and education to improve criminal justice outcomes. Our three main areas of focus are: accuracy in criminal cases, equity in criminal outcomes, and behavioral health needs.
The Wilson Center's work is non-partisan and evidence-informed. We seek to engage with state and local government and community stakeholders to translate research into effective and practical policy.
The Wilson Center is led by Brandon Garrett, the L. Neil Williams, Jr. Professor of Law at Duke and a leading scholar of criminal procedure, scientific evidence and wrongful convictions. In 2020, the Center received a $5 million grant from The Wilson Foundation to fund its research and educational activities.
The Wilson family has a long history of generous support for Duke programs, institutes, and initiatives. Derek Wilson serves on the Nasher Museum's Board of Advisors and will chair the new Wilson Center Advisory Board. He formerly served on the Duke Alumni Association Board and Alumni Admissions Advisory Council and as a co-chair of his class reunion, and he was a founding board member of the Center for Entrepreneurship and Innovation at Fuqua. Derek and his wife Christen have donated works of art to the Nasher Museum, and their daughter, Trinity Walker Lewis '15, is also a Duke alumna.
The Wilson Center launched in 2019 with a $4.7 million grant from the Charles Koch Foundation, which supports research and educational programs in areas such as criminal justice and policing reform, free expression, foreign policy, economic opportunity and innovation. Additional support for Professor Garrett's research has been provided by Arnold Ventures and the Center for Statistics and Applications in Forensic Evidence (CSAFE).
Job Opportunities
Wilson Center Criminal Justice Impact Grant Program
Click here for more information about the grant program and the application process.