Duke Center Tackles Criminal Justice Reform with $5 Million Grant
DURHAM, N.C. — Duke University has received a $5 million grant to bolster legal and scientific data-driven research at Duke Law School that specifically addresses criminal justice reform, President Vincent E. Price announced today.
The grant from alumnus Derek Wilson, through the Wilson Foundation, will provide significant funding for Duke Law's Center for Science and Justice to advance criminal justice research, education and policy. In recognition of the grant, the center — which launched in September 2019 — will be named the Wilson Center for Science and Justice.
Houston Bail Monitor 6-Month Report Shows Increased Releases, Reduced Use of Cash Bail
HOUSTON, T.X. – The independent monitors overseeing Harris County's historic bail reform agreement filed its report this morning describing their first six-months of work and findings with the federal court, noting an increase in releases and a reduced use of cash bail.
The implementation of the ODonnell Consent Decree in Harris County, Texas – which encompasses Houston and, with nearly 5 million people, is the nation's third most populous county – governs what happens to thousands of people arrested on low-level misdemeanor offenses.
In the News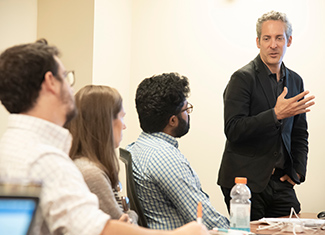 Duke Law Magazine: Data Driven
With the launch of the Duke Center for Science and Justice, Duke Law School is betting that empirical, interdisciplinary research can produce evidence-based reforms in the criminal justice system. In this in-depth profile of the center, Duke Law Magazine explores how Professor Brandon Garrett (right) and his team of researchers and collaborators are using data to find ways to improve on criminal justice reform.